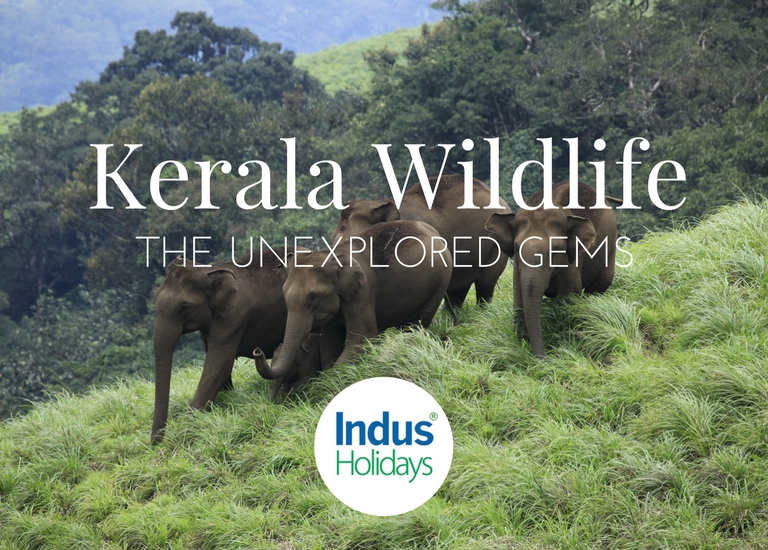 Here's the best part, this article is going to let you in on some of Kerala's best kept secrets. As pompous as it may sound, some places in Kerala are tagged – 'the richest expressions of life on Earth'. No wonder that the Western Ghats (with 20 odd protected zones in Kerala) is on the World Heritage List by UNESCO.

With lots of options around, zeroing in on a place to go can become complex. While it is great to read about lots of spots on paper, our experience has been that many places have been found wanting when it comes to facilities for travellers. That's the whole point of this article.

Our venture is to feature the top 6 traveler friendly wildlife experiences in Kerala and help you in picking up the one that suits you best.

We believe the greatest success of Kerala's wildlife offering has been in bringing in local communities to conserve and protect the wild and in sharing the benefits of tourism with them. With the passionate involvement of indigenous tribes, the whole experience becomes richer.

Parambikkulam Reserve
Great place to start! Parambikkulam, which is under consideration for UNESCO World Heritage Site status, has amazing treks guided by tribals, night halts and jungle camps to offer. With 3 dams and a series of connected reservoirs, a boat ride here is ideal for wild life viewing with elephants, spotted deer and gaurs being regular visitors. The reserve is also home to the oldest (450 years) and largest living teak tree in the world. The place was also the favourite haunt of the legendary ornithologist, Salim Ali because of the rich avian population. Four indigenous tribes have formed their colonies in the reserve contribute to the activities organised.

Well maintained reserve run by passionate rangers could offer you some of the best wildlife experiences in Kerala

Planning a trip here:
Come here if you want to totally cut off and wake up to the sounds of wilderness. You could take up some of the programmes organised by the forest department and stay in the reserve for a couple of days trekking, rafting, enjoying the food, interacting with the tribals and going on jungle safaris. August to January is the best time and do avoid the monsoons. Located in Palakkad, the reserve is about 200 kms from Kochi.
The Tented Niches @ Parambikkulam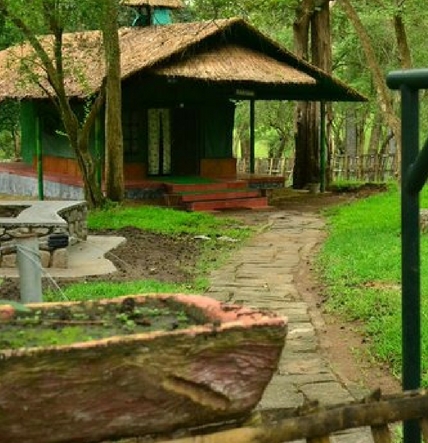 Tented Niche
Camp at a unique eco-friendly hut for a couple of days with a host of activities which give a great wildlife experience and tribal exposure
Good For: History Buffs, HeritageLovers
Timings: All days of the week 6:00 AM - 5:30 PM
Visit
Duration:min One day (depending on activity)
There are numerous well organised activities like jungle camps (8km into the forest), tree-houses, night halts, treks and day packages which will attract wild life enthusiasts. Featured here is one of the famous 2 day programmes at Parambikkulam.
Chief Attractions
Dusk drive through the forest will be thrilling and is your best shot at getting to see some rare animals.
Evening Bamboo rafting through the reservoir will be a fun experienceLocal cuisine food arranged in a tribal hut with buffet system
Local cuisine food arranged in a tribal hut with buffet system
Early morning guided trekking and bird-watching through the reserve
Tribal symphony, dance performance by the tribal communities residing in parambikkulam
Jungle safari in a mini-bus through the forest
Most of the activities/stays at Parambikulam require prior permission from the forest department. Click to have us book an experience for you.
Thattekad Bird Sanctuary
Of the 1200 bird species found in India, with Kerala being home to 600 of them, 320 odd bird species are regulars at Thattekad. Isn't that something? Experts say that the 25 sq km evergreen forests with wetlands create an amiable ecosystem for resident birds (60% permanent dwellers) and migratory birds (coming from places like Siberia, Iran and Tehran). Some rare species you spot here include Malabar pied hornbill, Black sparrow which mimics the sound of eighteen birds and the Ceylon frog mouth which is nocturnal. The nearby Edamalayar forest is where you could spot a mountain hawk eagle.

Thattekad is the richest bird habitat on peninsular India promising a memorable birding and camping experience

Planning a trip here:
You would need to ideally spend 3 days here in the company of an experienced birding guide. Be ready for wee hour walks into the forest for bird spotting. The best time to visit is between October and March and it is advisable to avoid the place during the monsoon. For the adventurous types you can think about staying on tree houses in the forest or forest bungalows. Affordable homestays, camping and resort options are also available in the area. Thattekad is around 42km from Kochi.

Eravikulam National Park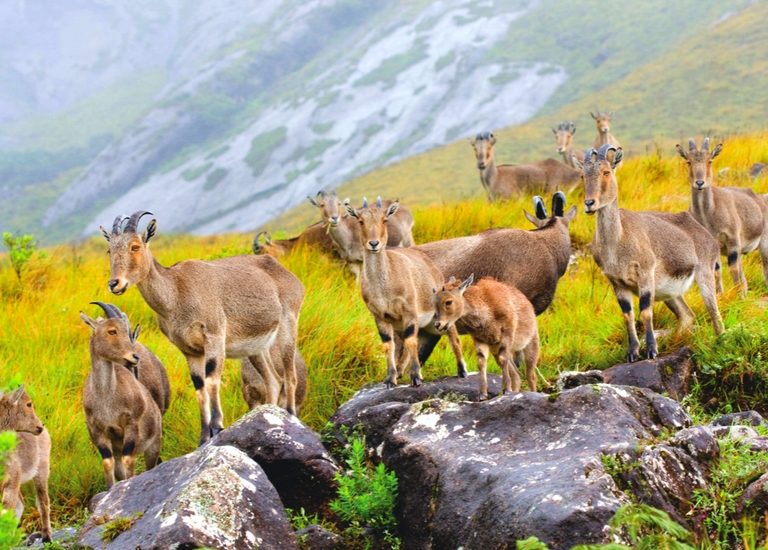 The terrain in the park is high altitude grasslands and features Anamudi, the highest peak (2695m) south of the Himalayas at the core of the park. Other than the star attraction Niligiri Tahr, the park is home to other rare wildlife species but mostly in the protected zone. As private vehicles are not allowed in the park, you get on one of the government operated mini-buses for a half-an hour ride up the hills. From there, you can take a mild trek to the amazing vantage points along with lots of endangered Niligiri Tahrs you meet along the way. Consider visiting the great interpretation centre up the hills.

Eravikulam harbours the largest surviving population of Nilgiri Tahr, an endangered species of goat endemic to the Western Ghats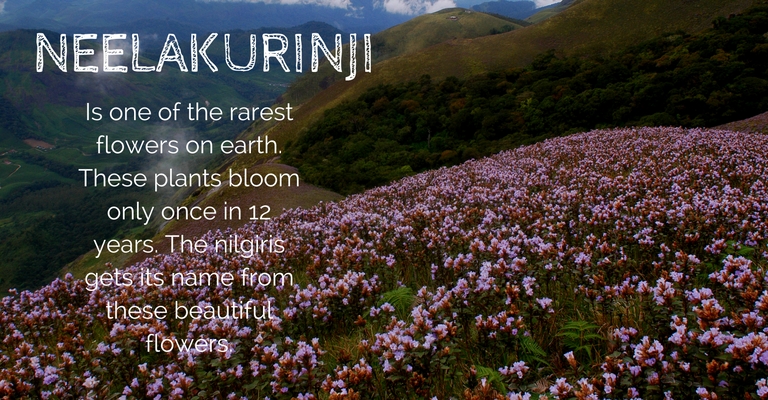 Did you know? The Paliyan tribal people apparently calculate their age based on the blooming of this flower. As these rare purplish blue flowers bloom, the mountains of Eravikulam get covered with a beautiful blue carp making for a truly memorable sight. Next mass bloom is expected in 2018.
Planning a trip here:
We recommend Eravikulam as a great half a day exploration as part of your Munnar trip (15km away). As for the experience, we feel it is among the best for families and honeymooners offering mild treks, views and wildlife. The park remains closed during Feb-March every year which is the time of calving of the Nilgiri Tahr.

Periyar National Park
With a 100-year-old artificial lake and its setting in the thickly forested Western Ghats (UNESCO world heritage site), Periyar will not disappoint with a range of activities and wildlife spotting on offer. The Asiatic elephants are commonly seen and lucky spotting of Gaur (Indian Bison) and wild boar do happen. There are about 60 odd tigers in the park but getting to see one would require you to go on a tiger trail which is for the adventurous few. The park is also home to rare butterflies like the Travancore evening brown.

Among the best managed reserves in India with a range of well organised wildlife activities for all kinds of travellers

Planning a trip here:
There is something for everyone from the avid trekkers and adventure enthusiast to families. Boat cruises are a trilling experience at dawn and dusk when the chances of viewing wildlife are better. September to May is the best time to visit the reserve. The monsoon season has a different charm and in April your spotting chances are higher as animals approach the waters more frequently during summers.
Eco-Tourism Activities:
If you have come to experience the jungle, then the place is worth staying for 3 days. Check out some of the famous community based eco-tourism activities in the park at http://www.periyartigerreserve.org/home.php

You can pick on some of the organised activities like guided treks, border hiking or guided night trails among many other options. Unique jungle eco-lodge accommodation facilities are also available at the reserve. The flagship Periyar Tiger Trail is an adventurous trekking and camping program (2 or 3 days) and is probably the best experience on offer at the reserve.
Jungle Jeep Safari @ Gavi
Jungle Jeep Safari
This day programme offers a scenic drive through the jungles, amazing treks, canoeing all making for unexplored wild experience
Good For: History Buffs, HeritageLovers
Timings: All days of the week 6:00 AM - 5:30 PM
Visit
Duration:min One day (depending on activity)
This is one of the most popular activities in Thekkady as Gavi is a major off-the-track destination offering an authentic wild life experience replete with waterfalls, cardamom plantations, grasslands and tropical forests.
Chief Attractions
Enjoy an early morning 40 km scenic drive through the jungle on a jeep
Have breakfast at the Green Mansion forest centre at Gavi.
3 hrs trek with trained tribal guides, through grasslands, hills and thick forest where you will great wild life spotting.
Evening after lunch relax by canoeing/ peddle boating in the placid waters of gavi lake
You also be taken to cardamon plantations and view points where you can get a panoramic view of the famed sabarimala shrine.
For this day package, you need to book well in advance as only 100 travelers are given permission to enter the reserve on any given day.
Wayanad Wildlife sanctuary (Tholpetty)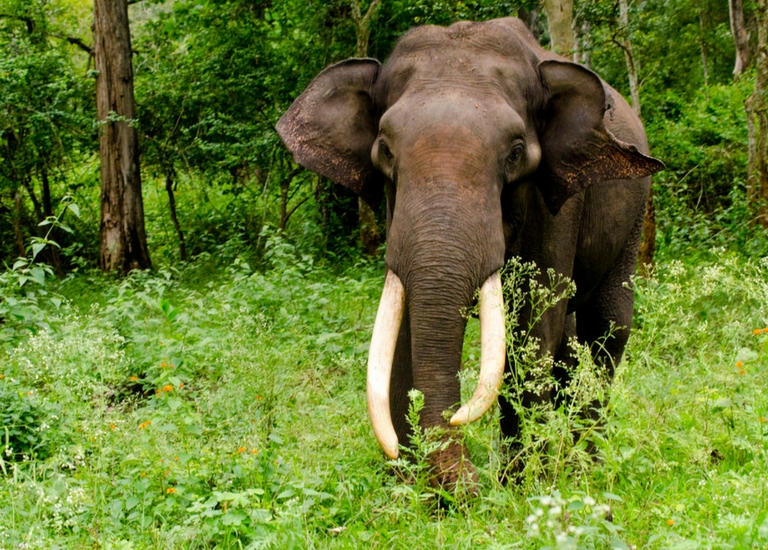 The forests of Wayanad have an interesting story to tell being the place from which erstwhile king Pazhassi Raja valiantly engaged the British in guerrilla war with the help of tribals. Now the forests are part of the protected Nilgiri Biosphere reserve. Here, you are less likely to get the big cats but langurs, bisons, deers and elephants are common sights on a guided jeep safari along the bumpy terrain. Watching towers near waterholes are ideal viewing of spots. However, our recommendation is to go for the privately organised open jeep night safaris outside the park. With a close up on the freely roaming elephants, it will be a truly thrilling adventure.

Potentially one of the best habitats for Asiatic Elephants, wayanad's wild tuskers will amaze you whether in the park or on the road

Planning a trip here:
A visit here can be organised as part of your regular wayanad tour for families and honeymooners. Summers are good time to spot the wild. The park remains closed during the monsoons (June and July).
Silent Valley National Park
The Silent Valley National Park is one of the largest preserves of natural rainforests in Asia (around 240 sq km) and its biodiversity gives it the tag 'the richest expressions of life on Earth'. This is where you should be if you are a nature lover, researcher or gutsy trekker. The panoramic view of undulating mountains and lush green carpet that greet the eye from the watch tower is simply breath-taking. The element of myth being associated with the Pandavas exile and the fact that it was the site of India's fiercest environmental debate of the decade adds further to the charm of silent valley.

Being more bio-diverse than the Amazon forests, the Silent valley is one of Kerala's best kept secrets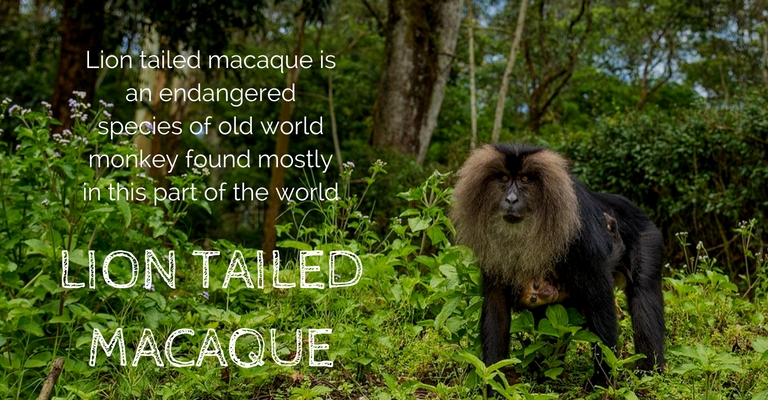 Planning a trip here:
There are a couple of day trek paths for which advance reservation needs to be done. For a wildlifer any day is a good day for a walk in the wilderness but in general December to April will have brighter days. The park is about 80 km from Palakkad and Mukkali is the last check point of 'civilization' from where you will need to hire a guide and get on jeep with permits to the park. Accommodation options like guest houses and some resorts are available in the outskirts of the park but book before coming here. The park is free from commercialised tourism so you might find some facilities wanting.
Are you looking for a exclusive Wild life tour in Kerala? We customise one for you.
Other wildlife options
There are lots of other places to visit in Kerala if you feature wildlife as the core your tour. Chinnar is home to the endangered Giant Grizzled Squirrel, Neyyar's Agastyakoodam trek is considered the most challenging, and so on. However many sanctuaries do not have well-arranged options for travellers. We have featured some of the best organised wildlife experiences in the article above.

Tips for wild life enthusiasts
Choose your experience, plan and do your bookings well in advance. Some of the lesser organised wild life spots do not respond to mails, try booking through local experts.Some experiences like Parambikkulam and Periyar will appeal to the core wildlife lovers and others alike while places like Eravikulam or Wayanad are more suitable for families. So chose your experience well.

Be prepared for lesser creature comforts and be equipped with the right clothing and trek accessories. To sum it up, whether you are a birding enthusiast, love difficult treks, wildlife fan or want suitable family wildlife experiences, you have lots of places to go and activities to consider in Kerala. Do drop in a comment here for more information on wildlife experiences. Happy Touring!