With plenty of resorts and treatment centres to choose from, finding the right place can be a challenging task. After all the purpose of an ayurveda holiday would be rejuvenate the body while having a wonderful vacation at the same time. Some resorts are well managed and administer ayurvedic treatments that yield results. On this page we feature some of the best ayurveda centres in Kerala to help you find the right theme for your ayurveda holiday.

If you are in for some pampering, rejuvenation therapy or a new look for a new phase of life, then you could consider some of the ayurveda wellness centres we have featured. However, if you have some serious ailment and are searching for treatment we will have to link you up with the specialists in curing your kind of disease. For that we have featured some of famous ayurveda treatment centres as well.
Point to Remember before booking any ayurvedic resort
Centre must be authorized: Kerala tourism authorises centres with "Green Leaf" and "Olive Leaf" grades to ayurvedic centres. Olive leaf is comparable to 3 star category in hotels and "Green Leaf" is graded for centres offering 5 star like facilities.
Check if the centre is specialised in what you are looking for: Today is a world of specialisation, some centres may be better at some therapies or curing particular diseases. Consult with people who can direct you to the best centre for your particular requirement.
Choose a theme: When you have between 7 -30 days at a place, there is enough time for creative pursuits and activities which you can plan with experts based on the destination of your ayurveda holiday
9 leading Ayurveda rejuvenation centres in Kerala
This section introduces some of the leading centres for rejuvenation therapies in Kerala. In Kerala you will find plenty of places offering Ayurveda and some are certainly better than others. We have hand-picked a few reliable places to consider. A good place and a great deal on it will take you miles towards a memorable ayurveda experience.

Kairali Ayurvedic Health Village
The idea is to enjoy ayurveda wellness treatment in a typical Kerala village setting and get back to nature.
What is special?
The 30 aesthetic cottages over here conform to Vaastu Shastra making them unique in name style and décor. Apparently, the guests are assigned rooms according to their zodiac signs. The property also has a beautiful 10 acre organic garden.
Kerala style construction, special poojas, in-house astrology experts along with handloom weaving, handicrafts and pot making await you here. Only vegetarian food is served and guests are encouraged to participate in the daily yoga sessions.
Estimate pricing
Around $250 per night for a double with meals, consultation, therapy and guided meditation.
Theme & Location
A holiday here is about getting back to nature in a healing village
Located in Kodumbu, Palakkad around 140 km from Kochi.
Kalari Kovilakam
Imagine ayurveda with all the grandeur of palace style living. Kalari Kovilakam is the palace of the ancient Vengunad Kingdom in Kerala which has now been converted with the theme palace for ayurveda.
What is special?
Here you can also join in the Kalaripayattu sessions (Kerala martial art) which begin with gentle exercises which awaken inner energies. A little extra booster to your treatment and don't miss the advanced Kalaripayattu combat demonstrations here.
Even therapy & food is customised to individual requirements. Authentic, substantive and a totally regal experience!
Estimate pricing
The minimum stay is 14 nights and starts around $6700.
Theme & Location
Ayurveda in an ancient palace adopting the lifestyle of the Kings
Located at Kollengode, Palakkad around 140 km from Kochi
Poomully Ayurvedamana
The family which runs the centre is widely popular for Kalari, Yoga, Ayurveda, and other performing arts in Kerala
What is special?
The specialists at Poomully Mana undergo rigorous training in various art forms to facilitate the best of services.
The family is among the most powerful nambudiri families in Kerala and have a long tradition in this ancient science.
Estimate pricing
The average room rental for is approx. $95 for a non A/C room including all meals, treatments and taxes.
Theme & Location
Experience Ayurveda with the luxury of heritage
Located in Peringode, Palakkad around 160 km from Kochi
Somatheeram Ayurvedic Health Resort
A serene ayurveda resort bang on the beach with 15 acres of greenery all around. It claims to be the world's first ayurveda resort and lives up to into its name with great facilities for ayurveda and yoga.
What is special?
The resort is built with eco-friendly materials and the concept is to the create a feeling of being in the lap of nature. Evenings over here are about dance, music and the cultural arts of Kerala making for a lively stay here.
Guests can enjoy cultural performances in the evenings as well. They have a range of specialised programmes for mind and body restoration.
Estimate pricing
Starts from $130 per night (single occupancy) for treatment and stay
Theme & Location
A holiday here is about getting back to nature by the beach front
Located at Chowara beach around 9 km from Trivandrum
Are you looking for some awesome deals on your Ayurveda vacation or some local tips to pick your resort? Let us help
Carnoustie Ayurveda and wellness resort
The ultimate in luxury and pampering, Carnoustie offers a holistic combination of Ayurveda, Yoga and naturopathy
What is special?
The programs from renowned London-based integrated medicine doctor Mosaraf Ali are particularly noteworthy.
Morning Yoga, plethora of Ayurvedic programs like anti-ageing, detox, weight loss, & stress control, and mouth-watering seafood at Chimaera and Ida
Estimate pricing
INR 60,000 for summer season (April – September) | INR 75,000 for winter season (October – March)
Theme & Location
Experience Ayurveda with pure indulgence and luxury
Located at Mararikulam Beach near Alapuzha
Rajah Island Resort
The twenty acre Rajah Island is surrounded by the famed backwaters of Kerala.
What is special?
In Rajah the concept of panchabhutas or 5 elements symbolizes the ten treatment rooms on the island.
Get treated in the aesthetic complex, stay at theme residences like coconut hut or Kashmiri boat and canoeing around the backwaters during the day.
Estimate pricing
Starts from $130 per night (single occupancy) for treatment and stay
Theme & Location
Anchor at the backwaters to begin a healthy voyage
Located in the Chettuva backwaters, Thrissur around 90 km from Kochi
Nattika Beach Ayurveda Resort, Thrissur
One of the most popular beach Ayurvedic resorts in Kerala offering unworldly yoga, meditation, and Kerala Ayurveda experiences
What is special?
A perfect beach-side location, ideally designed interiors, state-of-the-art infrastructure
The resort has sea-facing lounge, indoor games facilities, swimming pool with Jacuzzi and a tennis court
Estimate pricing
Prices range from EUR 1,286 – EUR 9,555 per person, depending on the duration and the type of accommodation.
Theme & Location
Rejuvenate or de-addict in the perfect beach setting
It is around 75 km from Kochi airport.
Shinshiva Ayurvedic Resort
Close to the popular Kovalam Beach, Shinshiva Ayurvedic Resort is a budget option which is both comfortable and informal
What is special?
The resort was founded by a doctor whose family has a 400 year old tradition in Ayurvedic treatment.
The resort overlooks the crystal clear sea and is surrounded by invigorating palm plantations
Born to win, You and Your Spine, Body Purification Therapy, Panchakarma Chikitsa and Slimming Programme are some of the special packages of Shin Shiva.
Estimate pricing
Rooms start from $65 per night, for a double in the low season.
Theme & Location
Rejuvenate or de-addict in the perfect beach setting
It's around 30 minutes drive from Trivandrum airport.
Thinking about an exclusive ayurveda break to relax your mind and spirit? Check out this package
Kandamkulathy Ayursoukhyam, Athirapilly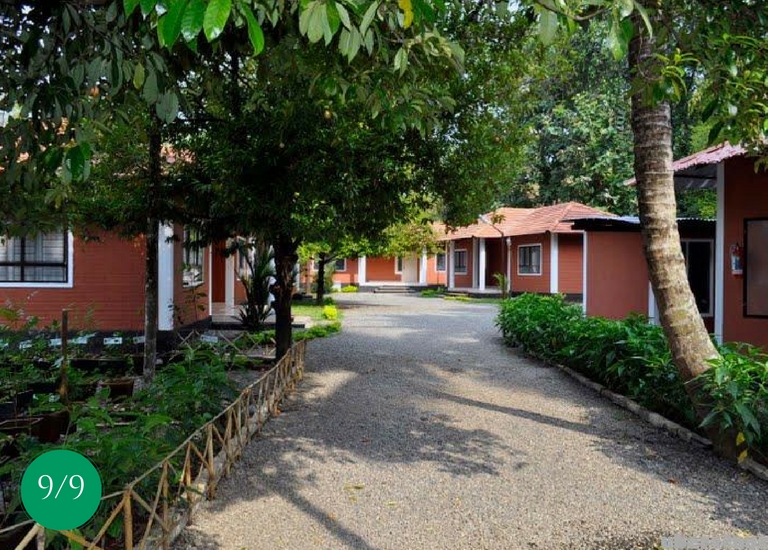 Located by the banks of the Chalakudy river, the forest ambiance of this resort is perfect for Ayurvedic rejuvenation
What is special?
This is one of the famous health resorts in Kerala and boasts of its 14 well-equipped cottages, serene ambiance, and revitalizing therapies.
Kandamkulathy also has 5 Ayurvedic hospitals across Kerala.
Exclusive therapies like Soothika & Vayodhika and the all-inclusive family wellness packages
Estimate pricing
The resort offers both treatment and leisure packages with packages on their website
Theme & Location
Anchor at the riverside and forest to begin a healthy voyage
Located near Athirapilly waterfalls, Thrissur around 75 km from Kochi.
3 leading Ayurveda treatment centres in Kerala
If you are looking for a cure for some serious ailment/ disease then some of the below featured treatment centres may be worth consulting. These are traditional spartan facilities which are more into the medical practice rather than the hospitality part.
Kottakkal Arya Vaidyasala
One of the pioneering brands of ayurveda in Kerala. The founder Dr. P S Warrier learned ayurveda and also acquired proficiency in Allopathic treatment making the best of both worlds.
Fun to Know
In 1933, the founder Shri. P S Warrier was conferred the distinguished title 'Vaidyaratna' meaning Jewel among Doctors by the then Viceroy of India. In his will in 1944, he converted his proprietary concern into a charitable trust.
Theme & Location
The group has reputed hospitals and research centres in Kottakal (150 km from Kochi), Kochi and Delhi.
Arya Vaidyasala was established in 1902 at Kottakal in North Kerala where they still have an extensive hospital.
Vaidyaratnam Group
An ayurveda house from one of the traditional Ashtavaidyan families of Kerala. The group's reputed Nursing homes, college of ayurveda, oushadasala and research wing are marks of their commitment and proficiency in the age old science of ayurveda.
Fun to Know
The family patriarch Shri. Narayanan Mooss was awarded the coveted title of 'Vaidyaratnam' in 1924.
The group's contribution also includes an Ayurveda Museum which brings together years of tradition and showcases a heritage science.
Theme & Location
They have a major treatment centre at Thaikkattussery, Thrissur (80 km from Kochi)
The group's famous medicine manufacturing units were established in 1941.
If you want to combine travel and Ayurveda, complete your travel phase first. This tour is sure to give some ideas!
Vaidyamadham Vaidyasala
A treatment centre from one of the famous ashtavaidya families of Kerala. Their legacy starts from Asthavaidyan Valiya Narayanan Namboodiri (born 1882) and the centre still functions with limited capacity and traditional practices
Fun to Know
The family patriarch was an expert at detecting the 'signs of death' and also famous for his astonishing diagnostic skill.
A complicated treatment for arresting ageing was brought back into practise by this family
Theme & Location
This hospital is in a village setting at Mezhathur, Palakkad about 100km from Kochi
Vaidyamadham was established in 1912 They have 30 treatment rooms and produce up to 700 medicines in-house.
What we have featured here is in no way an exhaustive list. Depending on your budget and particular requirement we may have different recommendations to make. If you need help planning an ayurveda holiday in Kerala just fill in the customisation form and we will surely come up with some options suited to your requirement.