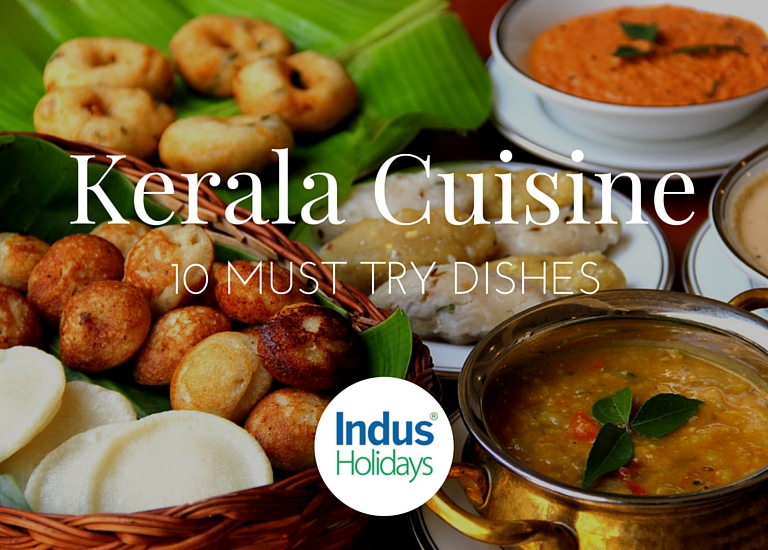 Photo by: Chidambara Vilas

If you are heading to Kerala, and looking forward to eating some fantastic food, this article is for you. For starters, there is nothing better to brighten your mood than one of the best breakfast spreads in the world. With its multicultural roots, the Keralan cuisine takes a thrilling dimension from melt-in-the-mouth dosas to spicy fish/shrimp to sweet payasams for deserts. We agree that the names like puttu, vellayappam or pollichatu might seem tantalizing but we assure you the pleasure is all for the tongue.

Read on as we detail the interesting history of Keralan food, things you must know, suggest 10 dishes you must try and tell you where to get them. Get ready for your mouth to water!

Things you must know about Keralan food

You can look forward to a pretty spicy menu in Kerala. But the best part is because of the multicultural influence; the variety for both vegetarian and non-vegetarian is truly incredible. Another aspect is that food here is generally served on a clean green banana leaf and eaten with one's fingers with no use for cutlery.
Like any authentic cuisine, the Keralan cuisine also takes full advantage of its land produce of excellent seafood, spices and especially coconut.
Vegetarian delights like the Kerala Sadya have been strongly influenced by the principles of Ayurveda. Ayurveda is a system of medicine where food plays a crucial role. So Ayurveda which focused on vegetarianism as a way of life incentivized the search for a perfect balanced meal. The Kerala Sadya is a judicious blend of – sweet, sour, salty, bitter and astringent taste.

The lip smacking non-vegetarian menu of Keralites has been influenced by the visitors. Arabs helped in the discovery of the Malabar Biriyani, Porotta and left Keralites with their penchant for tea. Syrian Christians have also got their own variety of food in products like Stew and Moily. This kind of amalgamation was possible because of the Keralites openness to influence and willingness to adopt while maintaining their identity. It is this unpretentious dimension of food in Kerala that makes it unique.

Without further ado we present 10 dishes you absolutely want to try when in Kerala.

The Kerala Sadya

A justified first on my list, the Sadya, a kind of traditional vegetarian lunch feast served on a banana leaf is probably the most comprehensive meal you will ever have. The serving is part of the experience, first the crispies come in –Upperi (banana chips), Sharkaravaratti (jaggery coated banana chips) and Pappadam followed by the tangy, spicy pickles. Watch out for a range of side dishes flowing into your leaf like Kurukku Kaalan – thick gravy with yam and pepper, Avial (mixed vegetable coated in coconut) and Oolan (white curry with pumpkin base). Now the famous red rice of Kerala is served on the lower half of your leaf. It is your cue to start, as curries like parippu and sambar (definitely something to look out for) flow in. You are expected to eat with bear hands as you mix up all the curry and dishes to enjoy the meal.
The crown-jewel of Kerala cuisine's vegetarian treasures, the Sadya, served on a banana leaf is a quintessential Keralan experience
The desserts flow in with a range of sweet Payasams poured over the leaf. Paal Payasam – which is thickened milk with rice and sugar and Pazham Payasam, made of bananas is sure to pamper your taste buds. The meal always ends with buttermilk (Mooru), which is a digestive aid and a small yellow banana. Mouth watering for this soul satisfying treat already?
Where to get it:
If you are in Kerala in during the Onam festival (August-September) you will be able to try a fully-loaded sadya with festival delicacies at many of the hotels throughout Kerala. Any other time, sample the sadya at places like BTH Sarovaram in Kochi or Ariya Nivas, Thampanoor (near Trivandrum railway station) where they will serve you a meal on a banana leaf for less than $3 and keep re-filling it until you burst.

Konju Varuthathu or Shrimp fry/grilled (Kerala style)

Different varieties of high quality shrimps are caught fresh from the backwater areas. This is boiled with turmeric, tamarind, chilli powder and garlic paste to form gravy like paste. Now it is fried in coconut oil – yummy! Enjoy this dish raw or with rice. Such are the simple pleasures of life!
We believe there is so little words can do to explain this seafood delicacy from Kerala
Where to get it:
If you are on a houseboat, you can get down and purchase fresh & authentic catch directly from the shops in the backwater area. The cook on your boat will prepare it hot and serve in the houseboat. You can even get larger varieties like tiger prawns to try.

The Kerala Breakfast spread

A steamed, rice based healthy meal is the theme of the traditional Kerala breakfast. Below are we featuring four breakfast delicacies you can sample as you spend your days in Kerala. You will be amused to read about their origins too.

Puttu (steamed rice cakes with grated coconut) is served with its better half Kadala curry (black chick peas cooked with spices). Who would have guessed that Puttu was discovered by the Portuguese for their soldiers in war. The second must-try is Appam (rice pancakes with coconut milk) that goes really well with chicken curry. Appam is apparently the answer the backwater Christians of Kerala found for an ultimate bread to go with their non-veg spread.
Kerala's morning spread has been rated by 'Travel & Leisure' magazine as one of the best breakfasts in the world. Oh yes!
Idiappam (string hoppers) is another signature Kerala breakfast food which goes well with vegetable/meat stew. The stew in Kerala is very comparable to the British stew. And last, Pathiri (unleavened rice pancakes) and chicken curry is yet another Malabar Muslim contribution to Kerala's breakfast spread.
Where to experience it:
The buffet breakfast at many of the resorts in Kerala will invariably feature at least some of the aforementioned dishes. Village tea shops serve the same which makes for a very unique breakfast experience with doses of daily politics and debates!

Malabar Biriyani

While biriyani is a popular dish in many parts of India, the variant you get in Kerala (Thalassery Biriyani) is different because of the short grain, thin rice (Jeerakasala) used in its preparation. The dish blends ghee rice with spices and meat with the dum process (a cooking method using sealing the vessel and placing hot charcoal on it). The dish is so popular that even movies are made with this dish as the central theme. You wouldn't want to miss out on this would you?
This dish is the product of the Islamic/ Mughal influence in the north Kerala region over centuries of trading
Where to get it:
Up in Kozhikode/Calicut try the dish out at Sagar Hotel or Paragon restaurant. In Mattancherry, Kochi try the dish at Kayikka's Rahmuthala Hotel, a place synonymous with biriyani cooked in pure ghee. Other delicacies here are fish biriyani (on Fridays) and shrimp biriyani (on Tuesday). The all-time favourite chicken biriyani is always available here.
Can we interest you in a tour that takes you behind the scenes of South India's complex culinary landscape? Click for further details.
Idli, Dosa & Coffee

Ahh, the fragrant flower in the stall, old Tamil/ Malayalam song in the air & clanging temple bell! All this make the ideal atmosphere to sample the masala Dosa (crepe with spiced potatoes) or soft fluffy Idli along with a hot cup of filter kaapi (coffee). Even try the varieties made with different ingredients like onion, extra ghee, mint and so on. Chutney taken along with these two is made from coconut and mixing with spices. Anywhere in South India, this combo will be available and make it a point to experience it.
Settle down for this quintessential South Indian breakfast/evening snack sipping a hot cup of coffee when in Kerala
Where to get it:
In Kochi, the Pai brothers fast food outlet at M G Road is pretty famous. They serve 36 varieties of dosa and is probably the only famous place in Kochi where you get food late past midnight.

Kerala fish curry & Tapioca

Tapioca is a staple food in some parts of the state. Boiled tapioca along with Kerala fish curry is an absolute must-try. The fish curry speciality is made with larger varieties like seerfish (mackerel) and is prepared by marinating it with a variety of spices, and cooked in tamarind gravy and grated coconut. Traditional style cooking in an earthen pot adds to the unique flavour.
Called 'Kappa Meen curry' in local parlance, this is arguably Kerala's most famous and best-loved dish.
Where to try it:
At a home stay you can request your host to prepare this dish. Generally this dish will not feature in the standard menu of restaurants.

Kanji & Payar (Rice Gruel)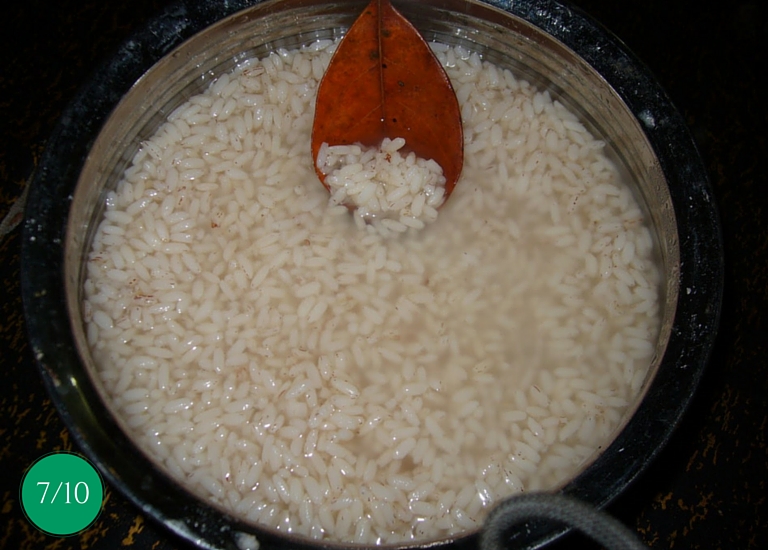 Photo by: tasteofkeralafrommykitchen

What cheese and macaroni would mean to an American, Kanji and Payar means to Keralites. When I describe this dish as a thick porridge of boiled rice, it might not sound particularly appetising, but kanji is comfort food you must try in Kerala. As light as it is on the tummy, the combination with pulses and chutney is simply awesome. It will be even be served with an organic spoon make of jackfruit tree leaf!
A traditional favourite of many Keralites, Kanji along with chutney or payar makes for a perfect light supper
Where to get it:
For some reason, you will not get it at most regular resorts and restaurants in Kerala, in some ways it is a delicacy denied to travelers. If you crash at a homestay somewhere during the trip, ask the host to prepare this dish for supper. At Chittor road, Kochi, there is a naturopathy restaurant called 'Aruvi Kuruvi' which serves many varieties of kanji.

Karimeen Pollichathu

Karimeen or pearl spot fish is a mid-sized speckled fish caught in the backwaters of Kerala. This signature dish is a delicacy in Kerala. The preparation is low calorie as the fish is not directly fried in oil. Baking is done to the fish wrapped in a fresh banana leaf. The fish is consumed directly from the banana leaf. This dish is worth having with rice or Appam.
Made from a local variety of fish, this low calorie preparation in a banana leaf is an utterly delicious must try
Where to get it:
There are some seafood speciality restaurants in Kerala which are certainly worth visiting. The seafood speciality restaurant in Casino Hotel, Willington Island, Kochi has become a spot of fine dining. Travancore palace is a restaurant in the outskirts of Alleppey which has a Kerala traditional house ambience and really awesome seafood spread.

The Beverages: Ilaneer & Kallu (alcoholic)
Photo by: Kerala Blog Express

Ilaneer or tender coconut water is probably the safest natural soft drink in the world. Good quality coconut water is nutritious and refreshing. This drink has found its place in the tourist's menu as a welcome drink. The tender coconut meat, ah, the succulent meat scooped off with a spoon on a hot summer day simply tastes divine.
One is a natural soft drink and the other is a mild alcoholic beverage both coming from the coconut tree
Kallu or Toddy is a cheaply priced commons man's alcoholic drink. This drink is made from the sap of the coconut tree flower before blooming. The coconut tree's own mild alcoholic drink is certainly worth a try. We hope you have the head to handle it!
Where to try it:
Ilaneer will invariably be served somewhere during your travel in Kerala, it is ubiquitous. If you want to experience a toddy kick, you will get authentic Kallu when you spend time at the backwater villages of Kerala (toddy shops) or it can be prearranged for your trip on a houseboat.

Malabar Porotta with Chicken curry

The soft, layered parotta is a north Kerala origin bread made with flour, egg, ghee and water. This goes perfectly with chicken curry cooked in coconut milk with a suitable mix of traditional spices.
The Malabar Parotta is a Kerala speciality bread which makes a fantastic combination with chicken curry
Where to get it:
This combination is popular as street food, but also available in most of the good restaurants around town.
North Kerala is no longer a secret. Food, nature, culture and sans the crowds. It has all the making of a perfect and personal getaway. Click to know more.
Don't miss out on snacking in Kerala
It would be a sin to leave you without some idea of the snacking scene in Kerala. Here are some all-time favourites you are going to stumble upon during tea time.
tea time snacks
Summing it up:
We have featured just 10 dishes/ beverage options from the endless culinary landscape of the Keralan cuisine. A lifetime spent here would not be enough to find the best versions of these dishes. For a foodie, that goal is certainly worth pursuing. As Kerala continues to innovate, the gastronomic pleasures of 'God's Own Country' reach new levels.

Did I miss some local dish you feel needs mention? or do you have something you would like to mention? Chime in with your comments below.