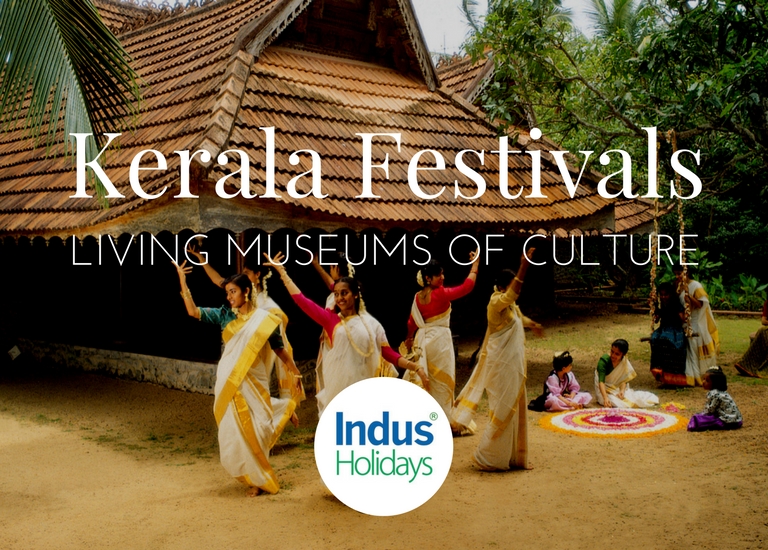 Let's admit it. At some level, we all relate with festivities of any kind. You would have seen it happen to yourself, even in the deepest of problems, festivals have this magical ability to take you out of your small world and make you join in the collective vivacity. Sometimes, it is about a delightful assault on the senses. From another vantage point, celebrations reveal the people's deep relation with nature and their history. For me, festivals have been among those occasions where I've claimed my humanity in these deeply individual oriented times!
As a traveller, the living museums of a region's culture that celebrations create are the biggest draw.
Kerala is one of those festival-crazy parts of the world. Throughout the year, you will find events where grandeur prevails over the typical simplicity of daily Keralan life. It is these very festivals which have traditionally preserved the culture and art of this land. With this article, my attempt is to bring out the spirit of Kerala's most famous celebrations. It is almost like running you along a year with the most featured events in Kerala's social calendar. And more importantly, help you along your way to make it to experience some of these. Happy reading!

Attukal Pongala (February)

She stood with a million other women, cooking the favourite food of the goddess (rice boiled with jaggery, ghee and coconut gratings in a small earthen pot). The blazing sun and smoke from countless pots around did not stop her. She prayed in union with infinite stretch of women (from all religions) knowing that the goddess had accepted her offering. As the priest showed a few drops of holy water and flowers from the skies, she experienced something truly spiritual that endeared her to god's own country. An experience like that of Dianne's could be your very own.
On a warm sunny afternoon, 9000 miles away from home, Dianne stumbled upon the Goddess within
The Pongala festival at Attukal, Trivandrum is a Guinness record holding event for the largest single gathering of women for a religious activity (2.5 million). It is indeed a delightful sight to see waves after waves of women of all age groups, religions, nationalities surging into the area to partake in the unique ritual. The cooking offering happens on the 9th day of the festival at Attukal temple and the roads in 5 km radius of the temple will witness the offering. The other days of the festival are filled with art forms like peacock dance, Theyyam, Panchavadyam and magnificent processions on caparisoned elephants.
Planning for a Pongala experience:
You may have to brave the sun and start loving the crowds but if you are looking for an authentic Indian spiritual experience, the Pongala will top the charts. A few days before the event (February), take up a city hotel in Trivandrum or cool your heels at the Kovalam beach. A friendly homemaker who has been partaking in the event for years will help you get the ingredients, pick a spot and set up your havan a day before the event. She will join in the cooking offering guiding you through the event. Ready for the experience? (Note: this event is exclusively for women)

Thrissur Pooram & Other Temple Festivals (April-May)

You have been up on your feet for the last 36 hours. A day and a half of colours, music, elephants and crowds. At the end of it all, you sense a weakness, not because you are tired but because you have witnessed something unbelievable. You have been humbled by the sheer force and vigour of a celebration which created a living museum. The wanderer in you sleeps calmly having just reached its ultimate destination in search of colour and culture. Yes, a Thrissur Pooram can be that emotionally compelling.
The most spectacular festival event on the planet says UNESCO, you must experience it to know why
You have been up on your feet for the last 36 hours. A day and a half of colours, music, elephants and crowds. At the end of it all, you sense a weakness, not because you are tired but because you have witnessed something unbelievable. You have been humbled by the sheer force and vigour of a celebration which created a living museum. The wanderer in you sleeps calmly having just reached its ultimate destination in search of colour and culture. Yes, a Thrissur Pooram can be that emotionally compelling.
The Pooram: Decorated Elephants on Parade, Music, Crackers and more
Pooram means a meeting in celebration. The idea is that all the gods in neighbouring provinces come to meet the Lord Vadakumnathan (Shiva) and this event is celebrated as a competition. Here are some of the event highlights:

Madhathil Varayu & Ilanjitharamelam: 250 odd artists form a percussion ensemble with the rhythm generated from traditional instruments like chenda (drum), kombu(trumpet), kuzhal (pipe)and elathalam(cymbals). The team is ushered on by thousands of music lovers who dance and wave their hands in tune with the rhythm.

Kudamattam: A sight to behold! 15 decorated elephants on each side facing each other and a sea of humanity in between them. Late afternoon, the ceremonial display of crafted umbrellas unfolds as the sequined parasol is exchanged standing on top of the elephants. The sides compete to display the best decorated parasol. Spectacular!


Vedikettu: As the sun sets down the west horizon, people relax and gear up for the most anticipated event. At 2:00 am local time, two temple teams enter into a competitive display of fireworks that will light up the sky for a couple of hours. The biggest of its kind in India, this part is awe-inspiring.


After the Vedikettu, the visiting gods return to their temples in grand procession drawing a close to two days of classic entertainment. Onlookers remain spellbound by what just unravelled before them.
Experiencing a Thrissur Pooram:
Thrissur is about 75 kms from Kochi and you will probably need to book well in advance to get a decent place to stay. Don't expect much eye shut during 36 hour festival and be prepared to brave spirited crowds, harsh sun, humidity, ear banging crackers and of course a musical & visual extravaganza. Thrissur Pooram is the biggest temple festival on the social calendar of Kerala. Small and large put together, there are several hundred temple festivals which dot the calendar year. If you are traveling into Kerala at some other time, you will be able to witness smaller but elaborate celebrations of similar nature around the state.
Are you looking to visit one of these rare festivals in Kerala? Have our local team custom-design a vacation for you.
Snake boat races – Vallamkali- (July to November)

For a couple of days during the monsoon season, the calm backwaters of Kerala turn to an electrifying race course. 30 m long narrow boat with 100 odd muscular oarsmen, a singer in centre breaks into song - 'arpu irroh' sending the entire team into synchronised frenzy and the chief oarsman controls the entire boat from highest point at 10 feet above water. There is pride at stake, passion for victory and the vibrancy of the backwater culture on display.
Snake boat races are the largest team sport in the world with traditionally a boat representing a backwater village in the competition.
What is it about this event that draws travellers from all over the world?
We guess it is the heightened emotion of the participants, the boat songs that fill the air and the genuinely thrilling sporting experience that makes this quintessential Kerala spectacle totally worthwhile. The event reflects the vibrancy of the backwater community with excellent team spirit, unity and celebration.
Witnessing a snake boat race is immersing yourself in a cultural pursuit that is uniquely native and collecting some memories of Kerala you will never forget
Planning for a snake boat race?
There are about 5 main boat races and 15 odd minor ones in Kerala. The most popular snake boat races are held between July and November. Except for Nehru Trophy and President trophy races which occur on fixed days every year, most other race dates are according to the local Malayalam calendar and so they vary. If you really wish to witness a race, you will have to plan well in advance and get the best spots for the event.

To make things easier we've have written up on the most important boat races of Kerala. Do read on the legends of the boat races, they are pretty interesting!
Did you know? There are some types of race boats some of them were designed to help smuggling goods. An elaborate preparation schedule and worship rituals ensue months before the snake boat race events. Well, there is a lot of trivia to share, but I guess we'll save the best for when you reach here.

Onam (August-September)

The myth is that Kerala's popular yesteryear King Mahabali returns from the netherworld each year during Onam to visit his subjects. His people, irrespective of community, join in decking up Kerala to recreate the prosperous era of his times. The celebration ensues with 10 days of sporting events, extravagant floral carpet decorations, sadyas (grand Kerala style feast on a banana leaf), joy and togetherness of Onam songs and Keralites dressed up in new traditional wear (Onakodi). Kerala puts up yet another spectacle of culture and tradition as the world looks on in awe!
Kerala's grandest festival, Onam, promises a compelling five-senses spectacle and some truly immersive experiences for travellers
Top 5 Onam Experiences for travellers
The 10 days of Onam celebrations in Kerala is beautifully multifaceted. From one vantage point, it's a harvest festival. A look from another angle, it celebrates a historical myth. Yet again, it's a cultural event. Any way you see it, Onam is a beautiful celebration of Keralan heritage.

When it comes to experiencing Onam in its full colour, you will have to be at the places of action on the right days. That's why we have compiled the top five experiences along with venues for you to soak in the festival in its entirety.
Ever wished to celebrate a festival like the locals? With parades, feasting, boat races, floral carpets, tiger dances, shopping & temple festivals, Onam is the most happening time in Kerala.
Kalpathi Chariot Festival –Ratholsavam- (November)

Want to lose yourself in a colourful divine marriage with deities mounted on chariots and cheered on by a joyous crowd? Picture this: 3 intricately carved chariots decorated with flowers and flags pulled through ancient Hindu Brahmin village settlements and Vedic chants being recited all along the way till sunset. The evenings during the festival are marked by cultural programs and Carnatic music concerts. A 10 day annual festival around the 700 year old Sree Viswanatha Swami temple fondly called the 'Varanasi of the south' for its steps (like in Varanasi) leading to the Bharathapuzha river. Does this feel like the culture immersive experience you were looking for when you come to Kerala?
A rhythm of colour, music and confluence of culture, Kalpathy chariot festival is the biggest tradition of the Malabar region
Experience a Kalpathi Ratholsavam:
The last 3 days of the 10 day festival are most important. The processions happens 3 kms from Palakkad town and usually during November every year. The event is a confluence of culture (Tamil-Kerala), music and colour. Plan well in advance to visit the Ratholsavam along with other attractions of North Kerala.

Christmas & New Year Partying in Kerala (December)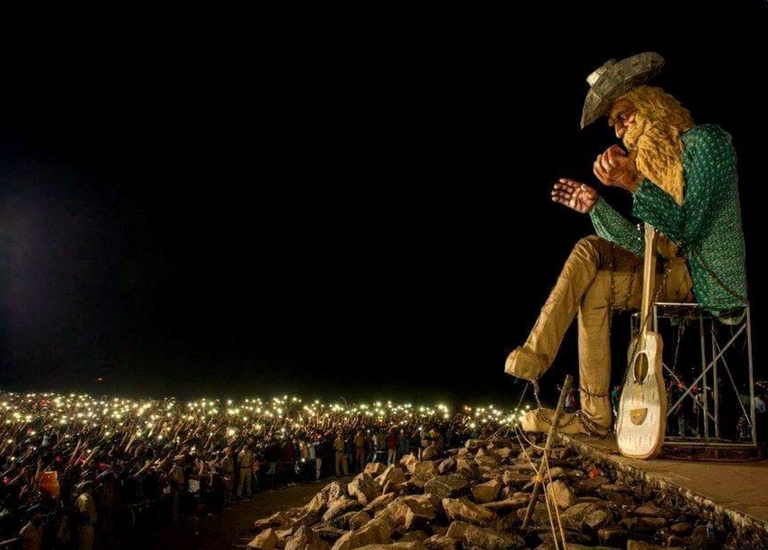 Photo by: Kochi Muziris Bienalle

On the Fort Kochi beach stands a huge effigy of Santa Claus, at the stroke of 12 it will be set ablaze and over the skies of Kochi fireworks will script the welcoming of the New Year. The crowd dances their way till dawn. Kochi may be the only city in the world to burn a Santa Claus effigy for New Years. In a way, it signifies burning the past to give light to a great year ahead. It is indeed such mischievous traditions that make the soul of Kochi's biggest festival!

Christmas in Kerala (with strong presence of ethnic Christians) is celebrated with a strong local flavour. Stars & illuminated Christmas trees of various sizes, decorated cribs, midnight mass on Christmas Eve and carol fests fill the secular festive air. The customary Christmas feast with typical Syrian Christian cuisine is not to be missed!
All roads lead to Fort Kochi, the centre of all the merriment, when it comes to Christmas/New Year revelry
The remnants of Christmas celebration will not have sublimed when the vibrant carnival picks up. An amalgamation of cultures, the Cochin Carnival is known for its beach competitions, illumination, public celebrations and parties which attracts travellers from all over the world. The event concludes on New Year's day with an extravagant procession marked by caparisoned elephants, music, art forms and a colourful rally.

Whatever the story is, it will be an experience seeing an old year pass in such fashion. Here comes the beer served with a nod and a wink, get ready for the celebrations!

Wish to be here already?

So how was the virtual tour through Kerala's festive calendar year? Some thing would have surely caught your fancy. Let us know in our comments section below. Words can only do so much, but pictures convey a lot more so we have compiled a story of images on our dedicated pinterest board on Kerala's festivals. Do check it out here

Have a great holidaying experience in Kerala. Until then keep celebrating life!