Photo by: Jet2Kerala, Kerala Tourism
"So, when is the best time to visit Kerala?" (or South India in general). Probably you have already got some blatantly conflicting answers and your planning is all smoke and mirrors. We are not surprised! As an insider, this is our answer: Anytime is a great time to go to Kerala. It is among the most popular destinations in India and has something to offer all year round. The catch is, what do you want to experience?

To make the best of your trip, you will have to take an informed call based on weather, hotel rates and also have an idea on seasonal experiences of interest in each of the 3 distinct travel seasons (Summer, Monsoons and Winter). So that is exactly what we are going to cover here. Towards the end, we have month wise detailed articles which will hopefully take you in the right direction to plan your Kerala holiday better.

Kerala Weather

Kerala is blessed with a very pleasing and enjoyable climate which never touches the extremes at any point of the year. This is largely due to its location and geographical features like the Ghats. While the high ranges remain cool, the plains are warm and humid. Add to this the romantic monsoons and we have a diverse climate. The below graphic will give you an idea of the weather throughout the year.
Kerala Vacation Prices (& Crowds)

Generally speaking, crowds and rates trend together. Drawing out a clear cut price trend is pretty complex but we will attempt to give you an idea. Primarily there are two factors which influence rates: General travel flow and destination specific factors.

General travel flow: For Kerala, there are different favourite times for travellers from different parts of the Globe. European travellers in general love our mild winters (Oct-Feb). Travellers from the Arab nations enjoy the beauty of the Kerala monsoons (July-August). Domestic Tourism spikes with local festivals and holidays like Summer break (May), Diwali (Nov), Navrathri Pooja (Oct) and Year ends.

Destination Specific factors: Monsoons are generally low time in the backwaters and beaches but rates spike at the same time at the waterfalls. Hotels in Thrissur hike rates during May because of the elephant pageants while rates are lower in other parts of Kerala. The same type of rate spikes happen during the snake boat races in Alleppey/Kumarakom.

To put it short, while there are some broad trends in rate flow, destination specific factors also play a role in price determination

Below, we have analysed and averaged out the 2016 luxury resort rates in top 5 Kerala destinations to show how rates fluctuate throughout the year.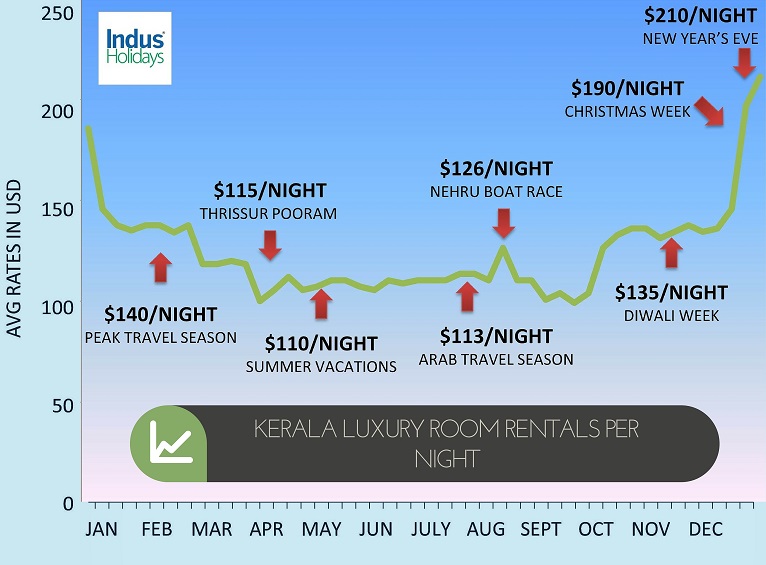 Putting it all together - The 3 seasons of travel

Over the last decade in the South India tourism industry we have seen the destination evolve from a winter hang-out to a round the year destination. We can confidently say that any time is a good time to visit Kerala with the weather never at the extremes. Some months are certainly better than others for sunny weather, lower crowds and cheaper prices. But every season has its own charm.

Each season in Kerala is special and has its own charm. Being a round the year destination, the trick to plan a perfect trip to Kerala is to choose the best experience for your season of holidaying

As you read further, you'll be able to quickly pick your ideal time to go to Kerala based on your interests and what fits into your vacation schedule. The best time to visit Kerala will really depend on what you want to see and do here. You must understand that Kerala sees three tourist seasons each of which attracts a different experience seeking traveller to Kerala.

The Summers (March – May) – It's celebration time

Even at its hottest, the temperature is only around the 30+oC but with the high humidity, you will sweat a bit during the day. The evenings are pleasant and you can expect a quick evening shower to cool things up. So if you can brave a bit of the day heat, Summers of Kerala can be a great time with some rewarding travel experiences on offer.
Photo by: Kerala Tourism

If you are willing to deal with the humidity, Summers in Kerala is a budget friendly time with less crowds, the most fantastic cultural celebrations and pleasant hill stations

The Guruvayoor temple festival starts the season with unique events like elephant races. As the warmer days set in, a season of festivities ensue. By April, the roads are adorned in yellow by the flowering of the 'Kanikkonna' flower which leads to the local New Year's festival of Vishu. The greatest attractions of this time of the year are undoubtedly the elephant festivals. These festivals feature large procession of decorated elephants, drummers, percussion instruments and fireworks which go on throughout the night. There is probably nothing like this anywhere in the world. Two of the most famous such festivals are Arattupuzha Pooram (Mar) and Thrissur Pooram (April).
Kerala Summers (March - May)
Good to know for Kerala Summers
Travel Tips: Let us admit it, during the summers, the Keralan landscapes aren't at the peak of its beauty but it will still pass off as 'Gods Own Country' with the occasional showers. The beaches are best kept away from. The backwater beauty doesn't really wear-off but humidity makes the days a bit sweaty.

The hill stations like Munnar, Vagamon and Wayanad however retain their charm and offer respite from the heat. Vagamon even has its famous International Paragliding festival in March. Wild life spotting in Thekkady also improves in this season as animals come out of the deep forest to get water. In short, the hills and wildlife areas of Kerala offer a pleasant and non-humid experience in the summers.

The Monsoons (June-August) – Ayurveda & Snake boat races

This season is sure to make a poet out of you. Picture this: The countryside turns an immodest green, the rivers are brimming with waters, trees dancing to the winds and the gushing waterfalls allure. The monsoons - popularly called "Dream Season" has a unique tour experience on offer. The rains are unpredictable and do cause minor inconveniences. However, it generally falls in bursts mostly during early morning and late evenings making sightseeing possible.
Photo by: Praveen R Venugopal CC

During the monsoons in Kerala, it will be raining discounts as well. Brave the rains to enjoy the immodest green landscapes, waterfalls, thrilling boat races and rejuvenating Ayurveda

With the monsoons setting in, the atmosphere is relatively cool, moist and dust free. The traditional texts bill monsoons as the best time for Ayurveda treatments. The body pores open up making you receptive to herbal oils and therapy. The events of the season start with Splash monsoon carnival at Wayanad and the 'Aanayootu' – Elephant feeding ceremony at Thrissur. Kottiyoor Temple hosts a unique monsoon temple festival this season. The show stopper of the season is of course the thrilling snake boat races. There are close to 20 organised boat races at different parts of the backwaters with the famous ones being Champakulam boat race (July), Nehru Trophy boat race (Aug), and Aranmula (Aug/Sept).
Kerala Monsoon (June - August)
Good to know about Kerala Monsoons
Travel Tips: To be honest, during the monsoons the landscapes of Kerala are at its beautiful best. The waterfalls like Athirapally, Palaruvi and Soochipara, become prime attractions in this season. Most of the other destinations including beaches, hill stations, wildlife and backwaters are certainly accessible and visit-worthy.

Just don't go on long drives during this time. If you are willing to deal with the uncertainty of rains then this is an awesome time to come. No wonder that travellers from the Arab nations find Kerala most attractive during this season.

The Winters (September-February) – Peak travel season

This season has been the traditional preference of travellers and is popularly considered the best time to visit Kerala. With the monsoons having subsided to occasional showers, the atmosphere is delightfully cool and fresh. The temperature drops a bit but it never gets too chilly like the extremes in the European Countries. In other words, the sunny skies and captivating cool weather make for a perfect travel experience in Kerala.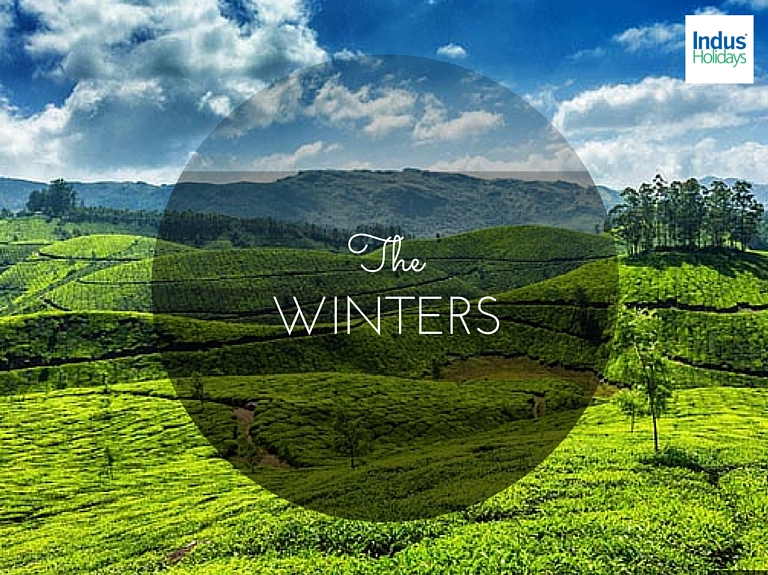 Photo by: Marvelous Kerala/Flickr/CC

The winters of Kerala marked by its colourful festivals, events and the salubrious climate is the peak travel season. Be ready for crowds, higher rates and plan at least 6 months in advance

The winters begin with the most flamboyant of Kerala festivals – Onam in August/September. It is a 10 day affair with state wide celebrations including Royal Parades (Athachamayam), Feasts, Tiger Dances and other cultural displays. The is followed by the start of the temple festival season with elephant parades, performing arts and unique festivals like Kalpathi Ratholsavam (Chariot Festival) in November. This is also the season of Theyyam in North Kerala, known for the elaborate masked-spirit rituals and performances. Come December and the action moves to Fort Kochi and Kovalam beach with Cochin Carnival, Kochi Muziris Biennale and New Year's eve beach celebrations. The festival of Music and Dance continues through January. The Shivarathri celebration in February is famous for its ethnic charms.
Kerala Winters (Sept-Feb)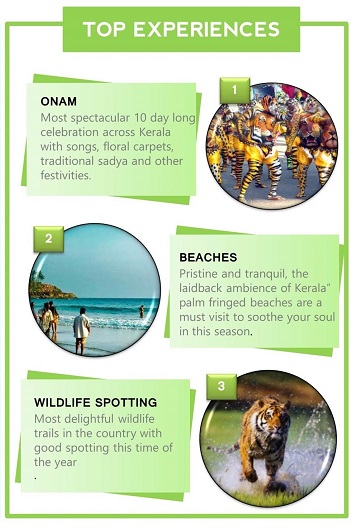 Travel Tips: With the perfect climate, both natural beauty wise and events wise, this is certainly the most happening time in Kerala. The beaches are perfect cool and so are the hills, backwaters and wildlife destinations. So expect crowds and be prepared to shell out a premium for accommodations and events.

More importantly, plan early and book well in advance (6 months in advance is ideal) as rooms get sold out fast. Consider off-beat destinations in this period to beat the crowds. This season is an all-time favourite, so don't think twice if you are planning on it.

All Season Experiences

Irrespective of when you come to Kerala, there are some experiences that you surely must not miss out on. Featured below are some of the most popular all-season experiences.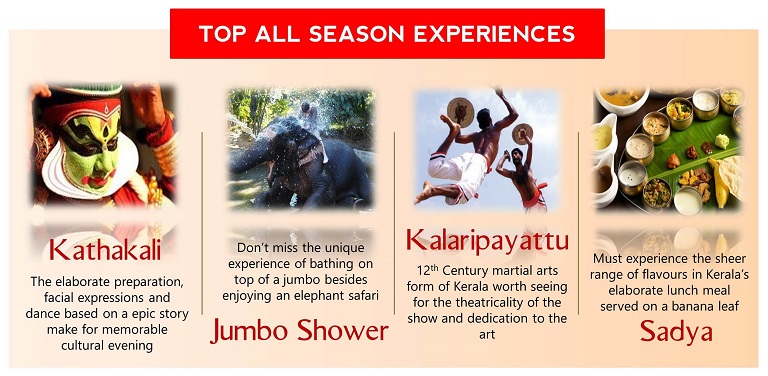 Are you ready to look into a few travel itineraries to get an idea of options you could consider? Click to discover!
Fine tune your South India holiday
To fine-tune your planning, we have created month-by-month guides on South India travel in general. These guides go into more detail and include top events, festivals and special experiences held annually. We have also segmented the information State wise and also some of these events are further detailed if you are interested in knowing more.

We hope this month-wise approach will prove useful in fine-tuning your planning and making your experience in South India truly local. Please click on the links below for further reading
Month-wise guides for South India

Hope this article and the detailed posts within have been able to help you get you further in your tour planning agenda. Our attempt has been to give as much as value as possible, so if you think that there is something we have missed out, drop us a comment below and we will certainly update with relevant information. Thanks in advance!